We still have Friday appointments. However, for a multitude of reasons, we are no longer booking Waco Dentist Appointments on Saturday.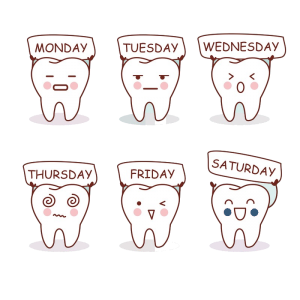 Changing Landscape of Healthcare and Dentistry
The landscape of healthcare in general is changing and Dentistry is definitely a part of that. When the economy hit a rough patch in 2008 and then the recovery that occurs afterwards, a lot of uncertainty entered the workplace, from people either finding themselves out of work for a period of time, or knowing so many friends and family that struggle as a result. For that reason, we chose to begin opening on Saturdays to accommodate our patients. However, even during the uncertain times brought about by COVID, we find that the patients requiring the flexibility of the Saturday appointment has significantly dwindled in recent years.
Busy Schedules Demand New Solutions
Sometimes taking off work multiple times a year for Dentists appointments and doctors appointments and all the other appointments we have to make becomes increasingly difficult for some, and just not an option for others. Add to that everyone's hectic schedules with kids' sports and other family activities and obligations, the typical Dentist schedule of Monday through Thursday 8-5 sometimes doesn't work!
The Convenience of a Waco Dentist Open on Friday
For the convenience of our patients, we maintain Friday hours, and at one point in time had made the decision to be a Waco Dentist open on Saturday.  I had been told in the past by other Dentists that working Saturdays was pointless because nobody wants to go to the Dentist on Saturdays. When we first began offering Saturday appointments, I found the opposite to be true. Not only were Saturdays consistently busy, but the surprise and the most rewarding part of it had been how many patients thanked us for being open Saturdays, and how it would be difficult for them to come any other time. And of course there's the toothache that starts at 5:15 Thursday night when most other offices have closed for the weekend. Being open 6 days a week gave us a broader window to take care of those patients when their luck ran out! However, as noted above, what once was one of our busiest days of the week has become a time to only catch up on paperwork as patients wanting a Saturday appointment have continually dwindled. For this reason, we are not scheduling Saturday appointments at this time. Perhaps we will find this service of need again in the future and will again maintain Saturday hours, but for now we just find there is not sufficient need among our patients.
At Waco Family Dentistry we are committed to making your experience the best it can be as well as convenient for you and your family. We look forward to keeping your smile happy and healthy for years to come!